We hereby present the following on homelessness: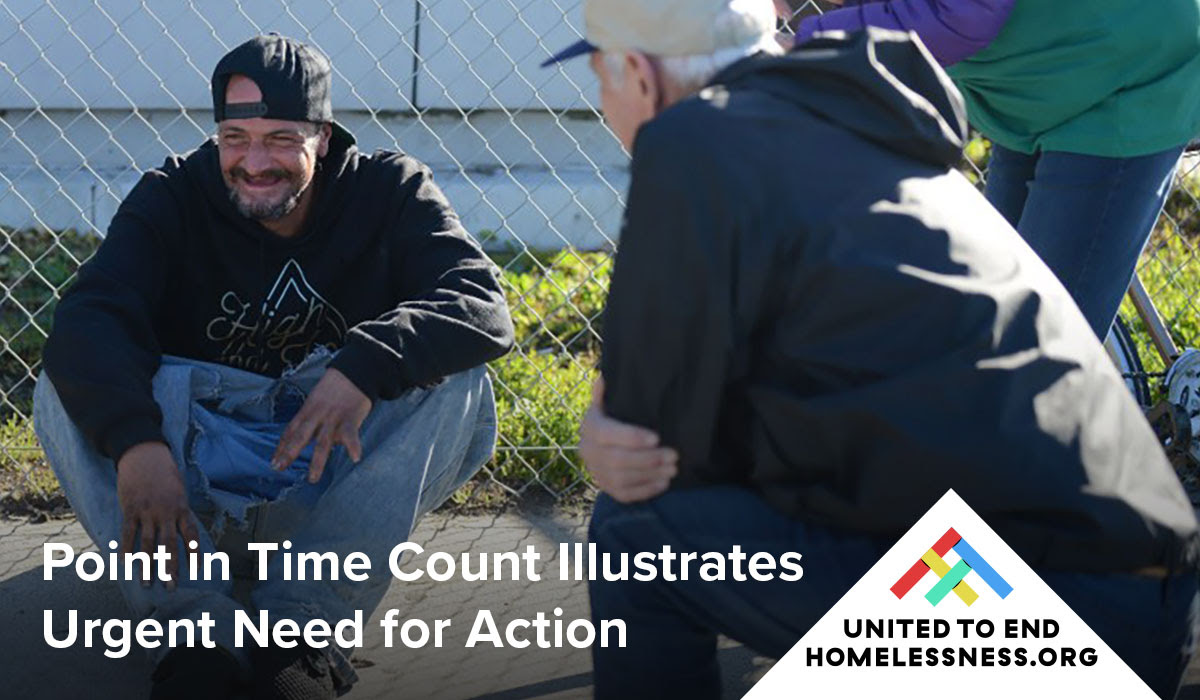 Hello Mike,

The results of the biennial Orange County Point in Time Count are in. It was a groundbreaking effort by the County of Orange, CityNet, 211 OC, as well as service providers, law enforcement and more than 1,000 volunteers using an electronic mapping system. We now have a significantly better handle on how many of our neighbors are homeless and where they are.

Bottom line? There are 6,860 people experiencing homelessness in Orange County. The count also shows that in the last two years that there has been an increase of 1,390 shelter beds into our system, and while this is good news we must remember that people need places to go after shelter so their homelessness can end.

This is why we brought local leaders together last year to form United to End Homelessness so that we, as a community, can work together to enact long-term, proven solutions. The count data shows that 52% of the unsheltered population are chronically homeless which reinforces the urgency and need for more permanent supportive housingin our community.

We will continue to help educate the community and build support for ending homelessness in Orange County. We will expand the Welcome Home OC program for apartment owners to make rental units available to people experiencing homelessness. And this new data will help the community coordinate the resources needed to bring customized services to those experiencing homelessness.

Now that we know how many of our neighbors are suffering from homelessness, it's time to shift into high gear in our collective effort to end homelessness in Orange County.





Nearly 7,000 are now homeless in Orange County, according to more accurate count

Read Now


7,000 Homeless People in OC is a Wake Up Call, Experts Say

Read Now


How are Orange County cities responding to new homeless count data?

Read Now
2019 Point-In-Time Count Results Released
As reported in my newsletter last week, Orange County partnered in January to complete the 2019 Point-In-Time (PIT) count of the homeless. Over 1,150 community volunteers, as well as nonprofit and faith-based organizations, all 34 cities, and County government representatives, including my office and I, worked in tandem to implement a new methodology and technology to ensure everyone was counted.


The data collected during our 2019 PIT count contains valuable information the County and community stakeholders will use to ensure resources are distributed to best serve those experiencing homelessness.
The extrapolation method we used is HUD compliant and entirely acceptable. To that end, the County created a unique identifier and used a survey on a phone app. Volunteers went to areas where homeless people were and filled out the survey, adding points to the GIS map.

The results from the 2019 Everyone Counts process provide the most accurate data on the scope of homelessness in Orange County to date, as 6,860 individuals experiencing homelessness were counted across the County. Of those, 2,899 were sheltered while 3,961 were not.
Approximately 2,200 people completed all the survey questions. This gave us much better accuracy of the data, and we also spoke directly with homeless individuals about their specific needs and barriers to resources. As such, we gained valuable information about our homeless population in a one-day snapshot, as this is a hidden population that moves around. For example, if we did a count today, they would likely be in different places.
In prior counts, volunteers only interviewed about 300 to 400 homeless people and extrapolated the numbers based on countywide demographics. A factor that could have increased the numbers in this year's PIT is we counted families differently than in prior count methodologies, so they were definitely under-counted in the past.
In the 2019 PIT count, we asked our family solution collaborators to connect with their clients who were homeless on the night of January 24. Results showed 110 families were unsheltered, as opposed to in 2017, when we had only 20 families, because we just don't see as many families in a street count.
Individuals experiencing homelessness were broken into different demographic groups, including sheltered and unsheltered, veterans, transitional age youth, seniors and families. In addition, those surveyed were able to self-report if they had substance abuse issues, serious mental health issues, and if they had a physical disability, as well as other demographic factors.

We learned that over 50 percent of our homeless have been in Orange County for more than a year. They also have community ties, such as family, school or employment. Those questions are locally driven. We added them to get a sense of their community ties, as many do have ties here.
Furthermore, seventy-three percent have their last permanent address here, and 92 percent spend most of their time here, particularly in the North and Central Service Planning Areas of Orange County.
Of note, Orange County saw a 121 percent increase in the number of emergency shelter beds from 2017 to 2019. This was an increase in 1,390 beds in all.
As previously stated, people familiar with the homeless populations in their respective cities volunteered for the 2019 PIT count, with familiar and trained volunteers counting over 800 square miles. We may have missed a few, but when homeless individuals said they had already been counted, we felt we hit a saturation point.


On behalf of the County of Orange, I would like to thank everyone who took time from their busy schedule to ensure that Everyone Counts. Your passion to bring solutions and awareness to ending homelessness in Orange County is truly commendable.
The final report on our PIT count will be submitted to the U.S Department of Housing and Urban Development (HUD) on April 30. To view the press release and an infographic on the 2019 PIT count results, please click here.

Homelessness in Orange County Update