We will be going dark through Labor Day Week-End here in the United States. We took a bit of an "Operational Pause" to reflect upon how thankful we are for the opporunity to serve.
Please enjoy our Twitter Channel Updates as well as enjoying our Broadcast POD as we leave you with some true "Food For Thought" courtesy of Peter Diamandis and his team as we salute them for all that they do to help change the conversation about our World:
What it is: Researchers from the Massachusetts Institute of Technology's Computer Science and Artificial Intelligence Laboratory (CSAIL) recently developed a system called "Interactive Robogami" that can quickly design and 3D print robots. The software provides users with a complete fabrication plan -- making this tool one that anyone can use to custom design and build robots. Users choose from a library of pre-assembled bodies, wheels and legs, to which the software will check to confirm that all designs are workable and without functionality issues, like being top-heavy. In just a few hours, the product is 3D printed as a flat kit, which is then folded into its final shape. Once available to the public, Interactive Robogami hopes this software will greatly democratize the design and fabrication of robots.
Why it's important: As we saw with the democratization of the web through a simplified user interface, the same thing is happening to robotics and more complex end products like robotics. As this develops and the barriers to experimentation disappear, look for highly personalized robots to emerge to fit previously unforeseen applications.
Share on Facebook
Spotted by Marissa Brassfield / Written by Jason Goodwin
What it is: Walmart has filed to patent a remote-controlled warehouse in the sky to more efficiently deliver packages to the last mile, stepping up its game versus Amazon. Going into greater detail than a similar patent app filed by Amazon, Walmart's vision is for a possibly autonomous gas blimp flying somewhere between 500 and 1,000 feet, deploying drones to deliver packages in the surrounding area.
Why it's important: We're already seeing tremendous disruption in the transportation and logistics industry. What happens to the manufacturing industry when blimp warehouses enable near-instant deliveries via drone?
Share on Facebook
Spotted by Sydney Fulkerson / Written by Jason Goodwin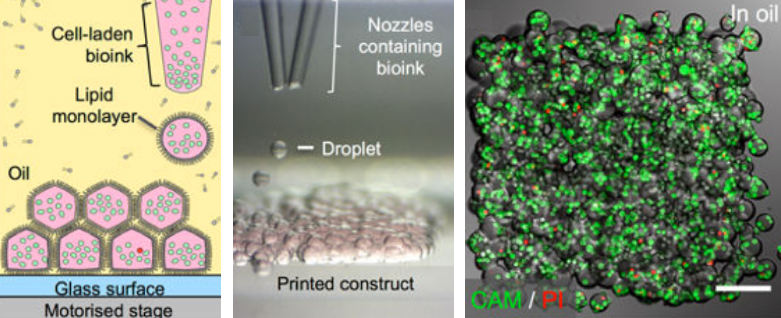 What it is: Researchers at the University of Oxford have taken 3D bioprinting to another level with a method of printing tissues in nanoliter-sized droplets wrapped in a lipid coating that can be assembled, layer by layer, into more complex 3D structures. Whereas previous methods often faced the limitation of cells collapsing on themselves or moving within the structure, the Oxford method improves the survival rate and allows overall structures that can mimic the function and behaviors in a natural organism. Next up, the team plans on developing techniques to facilitate printing a broader range of materials and at industrial scale.
Why it's important: The implications for healthcare and longevity are enormous. As Sam Olof, CTO at OxSynBio notes, it should be possible to create "personalized treatments by using patient sourced cells to mimic or enhance tissue function" and to create new diagnostic applications for drug and toxin screening.
Share on Facebook
Spotted by Marissa Brassfield / Written by Jason Goodwin