Our hometown, Laguna Niguel, will honor Veterans Day on Saturday November 11 :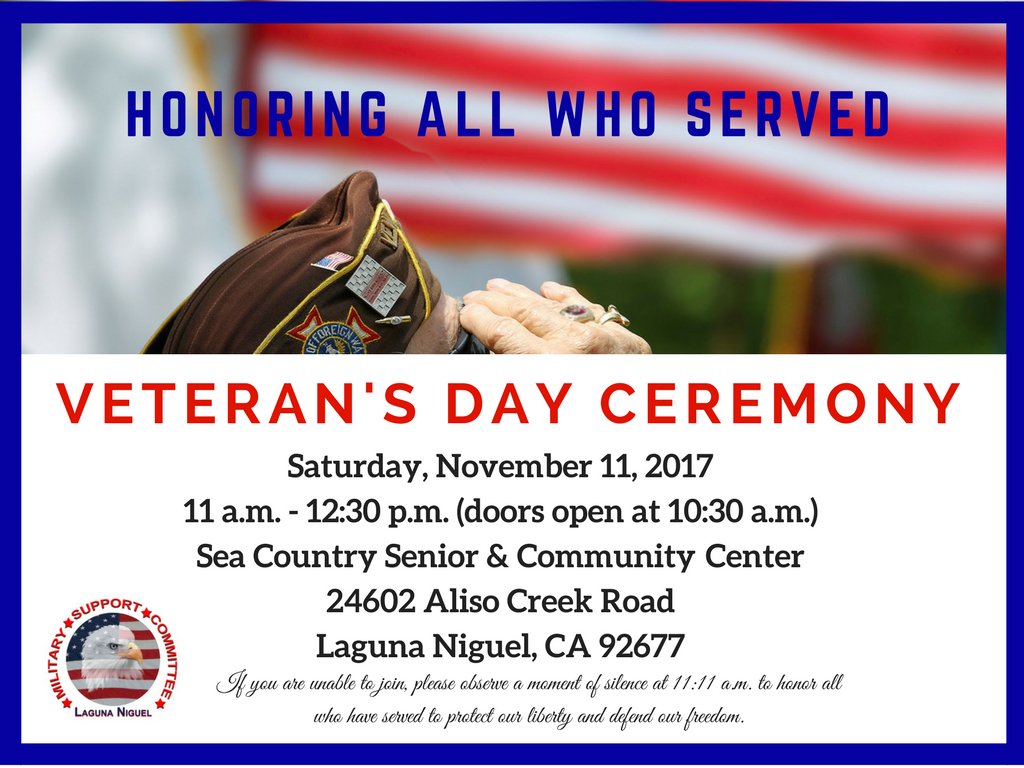 One of our Community Leaders, Lt. Col Shep Bentley, USMC (Ret). reflected upon this day which will be read by the Scouts of Troop 772 on Saturday November 11:
VETERANS DAY 2017
Veterans Day is a U.S. legal holiday dedicated to American veterans of
all wars. 99 years ago, in 1918, on the 11th hour of the 11th day of the
11th month, an armistice ("ARM-ISS- STISS"), or temporary end of the
fighting, was declared between the Allied nations and Germany in
World War I, which at the time was called "the Great War."
The Treaty of Versailles ("VUR-SEYE") was signed on June 28, 1919,
marking the official end of World War I. Still, the armistice date of
November 11, 1918, was remembered as the date that marked the end
of the conflict, because that is when the bloodshed stopped.
One year later, in November 1919, U.S. President Woodrow Wilson
proclaimed November 11 as the first commemoration of Armistice Day.
The day's observation included parades and public gatherings, as well
as a brief pause in business and school activities at 11 a.m.
On November 11, 1921, an unidentified American soldier killed in the
war was buried at Arlington National Cemetery near Washington, D.C.
On the same day the previous year, unidentified soldiers were laid to
rest at Westminster Abbey in London, and at the Arc de Triomphe
("TREE-OMFF") in Paris.
On June 4, 1926, Congress passed a resolution that the "recurring
anniversary of November 11, 1918 should be commemorated with
thanksgiving and prayer and exercises designed to perpetuate peace
through good will and mutual understanding between nations," and that
the president should issue an annual proclamation calling for the
observance of Armistice Day.
By that time, 27 state legislatures had made November 11 a legal
holiday. An act approved May 13, 1938 made November 11 a legal
Federal holiday, "dedicated to the cause of world peace and to be
hereafter celebrated and known as 'Armistice Day.'"
American effort during World War II saw the greatest mobilization of the
U.S. Army, Navy, Marines and Air Force in the nation's history (more
than 16 million people), and nearly six million more served in
the Korean War.
In 1954, after lobbying efforts by veterans' service organizations, the
83rd U.S. Congress amended the 1938 act that had made Armistice
Day a holiday, striking the word "Armistice" in favor of "Veterans."
President Dwight D. Eisenhower signed the legislation on June 1, 1954.
From then on, November 11 became a day to honor American veterans
of all wars.
A century ago today, American forces were still battling against vast
numbers of the enemy in the First World War. Alive with us today are
veterans of the Second World War, Korea, Viet Nam, the Cold War, the
Gulf Wars and the War on Terror.
In Laguna Niguel, we observe Veterans Day as a tribute to our citizens
that have stepped up to defend our nation and its way of life by serving
in the Armed Forces of the United States of America. Please help us as
the Boy Scouts to carry forward this tradition and to salute them today!
In Honor of this day, we will be "dark" through this Veterans Day Week-End with only daily updates available on our Twitter Feed.